Chris Graham
ACE Instructor
Gustavson School of Business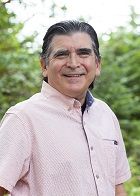 Instructor Chris Graham shares his considerable expertise in finance and management accounting with ACE students to ensure that their entrepreneurial ventures are established on sound fiscal foundations.


Chris Graham received his BA in economics from Queens University and attended the University of Western Ontario, where he obtained his MBA. Chris is also a Chartered Professional Accountant and Certified General Accountant.


Chris joined the Gustavson School of Business in 2003, where he instructs accounting and finance in both the bachelor and masters programs. He has also served as the school's assistant dean of finance and administration, director of accreditation, director of the MBA programs, acting director to the Bachelor of Commerce program and champion of the management specialization.


His main areas of interest are revenue-pricing models for both profit and non-profit organizations, and First Nations economic development activities.


In addition to the University of Victoria, Graham has taught at the Ivey School of Business, was the department head of management at the Saskatchewan Indian Federated College (now the First Nations University of Canada) at the University of Regina, and was an instructor and the chair of the accounting department at Camosun College in Victoria. Chris was also a past instructor in the CMA entrance exam program, and past chair of the CGA of BC Education Advisory Board.


He also has industry experience managing a medium-sized manufacturing firm in Ontario, consulting on economic development projects in northern Saskatchewan, and managing the revenue and marketing operations for a medium-sized Canadian municipality.
Chris has received several local and international awards. His work at the University of Victoria has been acknowledged with the Award of Excellence for Outstanding Service and the MBA Teaching Award, both through the Gustavson School of Business.

Additionally, he was part of the NW-ACE academic team that won the 2016 Global Best Award (Gold Medal) for the North American Region awarded by International Business Partnership Network and the Conference Board of Canada. The NW-ACE academic team was also awarded the 2016 Alan Blizzard Award in Collaboration in Teaching by the Society for Teaching and Learning in Higher Education.



Created with